Even if CydiaTweaks has nothing to do with this, we can imagine that you wish to get paid apps from AppStore for FREE!
Following this tutorial, you will learn how to do that, just installing free apps.
You need to have an US iTunes Account in order to earn and redeem credits but if you don`t have one, you can always create one for free.
This method does not require jailbreak, since it`s browser based only.


How to get paid AppStore apps for free:
---
Step 1
You must be on your Apple device and CLICK HERE. (You will see later why you need to be on your device)
Step 2
Press Get Apps! as shown in below screenshot.
Step 3
Choose one of the paid apps. Doesn`t matter which one, you don`t have enough credits now to get one.
Step 4
Install that certificate. This is the reason I told you to enter the website from your device.
Note: Installing this certificate will not affect your privacy. It`s only for verification purpose and can be easily removed if you feel unsafe by clearing safari`s cookies from: Settings – Safari – Clear Cookies and Data
Step 5
Pick a free app – install and run it for at least 30 seconds. After that, come back to Safari and wait for your points to be credited. Once your credits are in your account, you can delete the free app if you want to. Just so you can understand this, for a regular app you get at least 75 points. Angry birds price is 390 points.
The cool part is that you can make as many offers as you want to.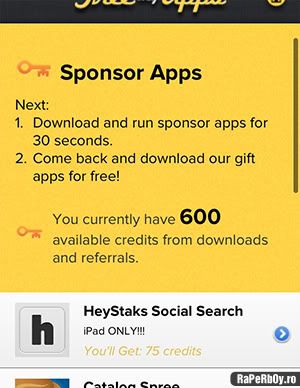 Proof that you can get paid AppStore apps for free
---